The World Of Banksy – The Immersive Experience ti porta a scoprire opere d'arte di Banksy che non ci sono più perché distrutte, vendute o rubate. Il visitatore si perde in un viaggio in giro per il mondo tra le opere dell'artista nei luoghi più inaspettati: Regno Unito, Francia, Usa, Australia, Mali e il muro di Betlemme. La mostra ripercorrere la storia e il messaggio sociale dei murales di Banksy portando il visitatore a riflettere in una dimensione underground.
La mostra unica The World of Banksy – The Immersive Experience è dedicata all'artista di strada di fama mondiale; le riproduzioni di murales permettono ai visitatori di riscoprire Girl with Balloon, Flower Thrower, Mobile Lovers e molte altre opere.
L'esposizione ha attirato milioni di visitatori nelle più rinomate gallerie d'Europa, partendo dalla Manes Gallery di Praga, l'Espace Lafayette-Drouot Art Gallery di Parigi, in Rue de Laeken a Bruxelles, l'Espacio Trafalgar Art Gallery di Barcellona, il Bikini a Berlino, fino a volare al Mall of Emirates Theatre a Dubai.
Nello spirito della famosa affermazione dell'artista "Copyright is for losers", "The World Of Banksy – The Immersive Experience" è 100% non autorizzata e organizzata senza il suo coinvolgimento.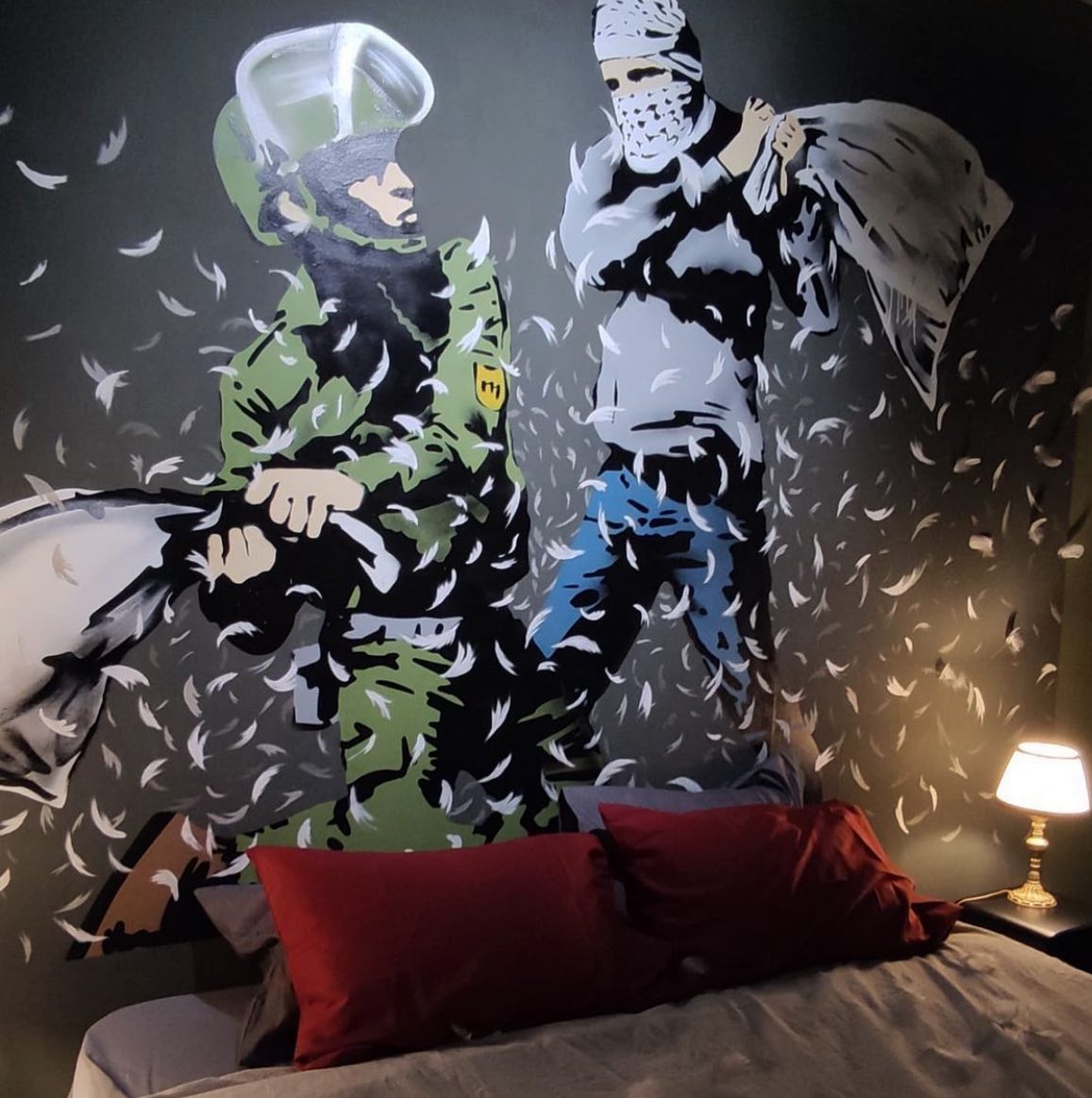 La mostra è giunta in Italia presso il Teatro Nuovo ed ha riscosso così successo da conquistare l'inedita location della stazione di Milano Centrale, che per la prima volta ha ospitato una mostra all'interno della sua struttura dando modo ai viaggiatori di vivere nuove esperienze e di arricchire il proprio bagaglio culturale. "The World of Banksy – The Immersive Experience" prosegue ora il suo viaggio multi-esperienziale attraverso le rotaie e fa tappa in altre tre principali stazioni italiane: Torino Porta Nuova, Verona Porta Nuova e Roma Tiburtina.
Una mostra in uno spazio underground fa vivere la stazione, che diventa non solo un luogo di partenze e arrivi ma anche di innovazione. Una destinazione di cultura, bellezza e relazioni. Queste sono le prime due tappe di un lungo viaggio per Banksy che potrà un domani trovarsi all'interno di altre stazioni italiane.
Gli amanti dell'arte possono godere dei suoi lavori in un unico luogo e contemplare le sue idee in merito a molti temi politici come la guerra, l'imperialismo, la pace, l'individualismo, l'avidità, la povertà, il capitalismo, il consumismo e l'ipocrisia. Le opere sono ricreate dai migliori artisti internazionali che si occupano di graffiti e in collaborazione con diversi collezionisti di Banksy.
La mostra affianca ad un racconto espositivo tradizionale una sezione virtuale: i-Banksy. All'interno di The World of Banksy – The Immersive Experience per la prima volta le opere d'arte più iconiche del misterioso street artist diventano animate grazie a brevi video che narrano la storia e la critica sociale che si celano dietro ai murales presenti in tutto il mondo.